Welcome
To the official websites of the Nolana-Network
Nolana-sheep are sheep which don't produce wool but instead carry a smooth coat. Due to this, Nolana-sheep don't need to be shorn.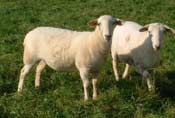 In Germany, the Netherlands and the United Kingdom, hundreds of breeders have dedicated themselves to the successful breeding of hairsheep in general. In particular, Nolana-, EasyCare-, Dorper- and Barbados Blackbelly-sheep are being bred. The German state sheep-breeding associations are backing the project.
With the information provided through this website, the association will promote the breeding of Nolana-, Dorper- and Barbados Blackbelly-sheep and provide information regarding the breeding and keeping of hairsheep in Europe and the world.
Even before the formation on March 3rd, 2006, the Nolana-association had been extraordinarily successful. The factors of our success are:
Clear definition of objectives and procedures
High standard of professional knowledge of the breeders involved
Regular personal contacts
All parties have the same interest
Problems dealt with openly
High level of personal commitment by all breeders
The information provided in this website is an open invitation to those sheep farmers who have difficulties marketing their sheep's wool and are fed up with shearing. Of course, all other sheep farmers interested in the breeding and keeping of hairsheep are invited to visit our website as well.
Dr. Rolf Minhorst
Eichertstr. 48
56745 Weibern
Tel: 0049-(0)2655-962912
rolf.minhorst@t-online.de
We have cooperation-partners abroad. Here are some of them: